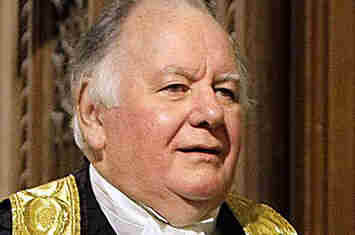 Gone in 35 seconds - Speaker falls on his sword
After agpcuk Chairman sent this:
It makes you wonder who's in change here, Michael Martin or Gordon Brown?
---

Queen in doping scandal: Royal racehorse fails drugs test

---

Are any MPs trustworthy?

Let us first put this into perspective shall we?
---
See how Thatcher has difficulty explaining what many consider today
as the arranged War of the Falklands
---

MPs' expenses in detail from the BBC

---

Papers say,' Officials colluded with MPs to let them make inflated claims'.

Papers say, "MPs should face jail for expenses fraud"

Expenses scandal has turned Speaker from a mistake into a crisis


The Speaker's last stand?

Download list MP's Expenses

How MPs Orchestrate Legalised Theft of Public money

Grabber Gordon's False Claims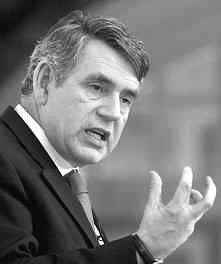 Paid brother £6,500 for cleaning flat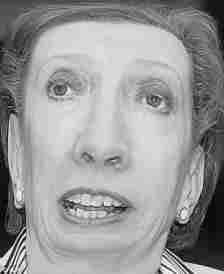 Margaret Becket in three-homes claims row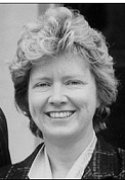 TORY Euro MP paid her husband £22,500 to write a 15-page leaflet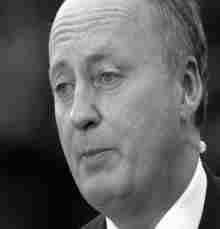 Richest man in Cabinet, Shaun Woodward, claims his full £23,083 allowance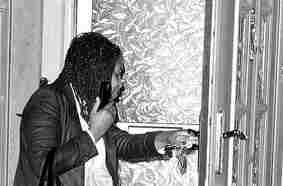 MP with two homes minutes from Commons claims £37,000 expenses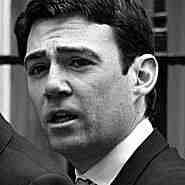 MP Tory George Osborne 'flipped' to claim £450,000 loan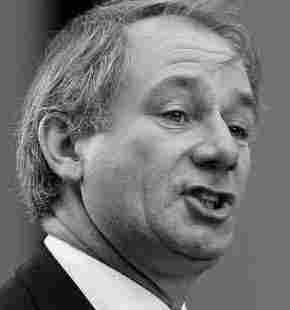 Three homes Geoff Hoon rapped for cashing in on expenses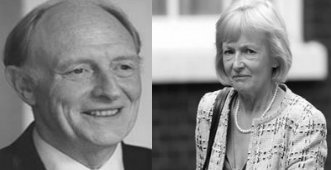 LORD & LADY KINNOCK'S £10M EURO GRAVY TRAIN

Report reveals how MEPs make millions

Why Fear Stalks Westminster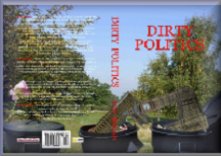 New Dirty Politics book causes waves

A quick look into 'Dirty Politics Book'.

More info Dirty Politics Book

MPs 'can claim £10,000 for kitchen'

£128m spent on bonuses for civil servants


Speaker Martin £8,000 taxpayer-funded trip to Dubai

Tory MP calls for Speaker to quit
Whatever next is going to surface?

Is this a biased political attack on Conway?
If not, why doesn't Met chase Martin?

Disgraced Conservative MP Derek Conway to Quit
After paying his family more than £400000 of taxpayers' money

MPs blasted by their own sleaze watchdog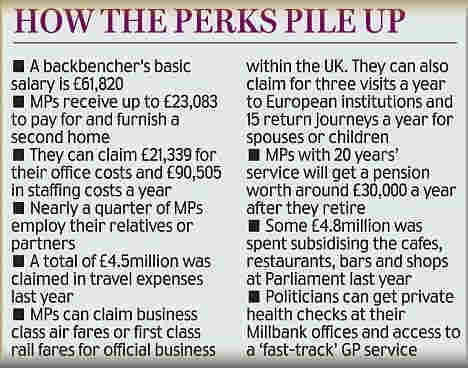 Speaker Michael Martin MP In Freebie Flights Row

Speaker under new pressure over £1.7m home improvements

Speaker Michael in new Taxi expenses row
Over £4,000 in expenses himself and' Housekeeper'

Crooked Tory MP wants even more Taxpayers Cash
House of Commons
Resembles House of Crooks

MPs 'claim for flats, fish tanks and iPods'

Conservative MP claims £20000 to paint house

MPs 'Can Claim Grocery Shopping On Expences'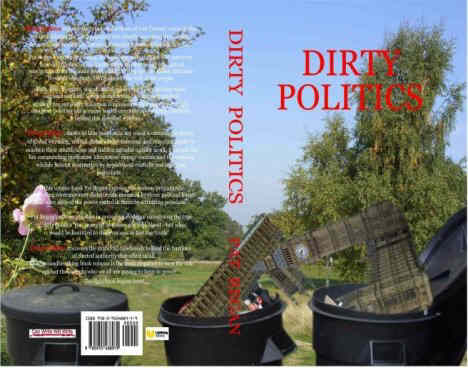 Link to Book Store
* Brown pays brother £6,500 for 'cleaning services'
* Prescott claims for two loo seats in two years
* Straw's excuse: 'Accountancy is not my strong point'
* Burnham: 'I need £16,500 or I may be in line for divorce'
* Mandy's £1,500 garden bill for 'pruning of leggy shrubs'
* Darling changed second home four times in four years
* Blears claimed for three different houses in one year
* Blair's £296,000 mortgage on home bought for £30,000
* Reid: £200 pouffe and £30 for a glittery loo seat
* Byers claims £125,000 for flat his partner owned
* Sinn Fein MPs: £310,000 on rent but didn't take seats
* MP spends so much at M&S he's given free pizza wheel
---
Now the Tory list below
---
* Hogg accused of having his snout in the trough... £2,000 to clear his moat, £617 for a mole catcher and £93 for tongs
*Tory MP Sir Michael Spicer claimed for helipad
* Tory MP Michael Ancram, worth £27m, claimed £14,000 a year
* Tory MP David Heathcoat-Amory spent £380 on horse manure
* Tory MP James Arbuthnot spent £1,471 of taxpayers' money on swimming pool
* Tory MP James Gray 'took picture of dying soldier in Afghanistan'
* Tory MP Sir Alan Haselhurst spent £142,000 on the country home
* Front-bench Tory pair accused of flipping their second homes to profit from expenses system
* Lord Tebbit defies Tories to tell voters: 'Don't vote for ANY party in European elections'
* Out of order! Speaker faces confidence vote after finger-wagging tirade at MPs who criticised expenses fiasco
* Brown warned: Beware of sacking Exocet MP Hazel Blears
* New audit unit to clampdown on MPs' expenses 'will be a toothless bulldog'
* Scrap tax exemption, says former sleaze watchdog Sir Alistair
* RICHARD LITTLEJOHN: If anyone is to be jailed for giving a false address...
* QUENTIN LETTS: A puce-cheeked, finger-wagging, 'don't you cross me, Jimmy' tantrum from Mr Speaker
* PETER OBORNE: Throwing out this greedy and arrogant man won't solve all our problems - but it would be a start
---

Ex-minister Elliot Morley claimed for mortgage that did not exist
Andrew Mackay and wife claimed for two second homes

View Interrogation video by BBC
---

Commons to name and shame MPs over expenses

'John Lewis' list for MPs expenses revealed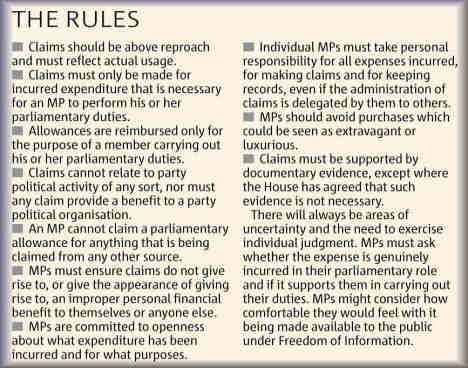 MPs now want £40000 rise to make up for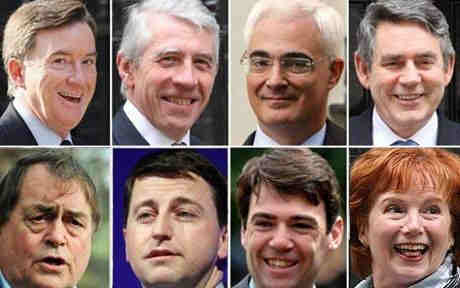 Do they look worried to you?

Now Fraud probe into MEPs' expenses

'Taxpayers have the right to feel outrage'

Taxpayers to put more into 'golden' pensions for MPs

Jacqui Smith's False Claims keep building up
---

Mole offering MPs expense records for £300,000
---

Mocking Hazel Blears unpaid £18k Tax Bill

Not so cockey now is she?
---

British Home Secretary has Adult Films on expense account

Claimed £23,000 of taxpayers' money for her 'second' home

Jacqui Smith's excessive Claims keep building up